Anime World Order Podcast
Anime World Order Podcast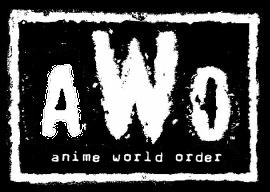 featuring: Daryl Surat
A podcast all about Japanese cartoons and comics as discussed by three self-proclaimed experts in the world of anime and manga! Plus anime news / reviews, coverage of classic anime, hentai / yaoi, and much, much more. Updated every week. We hope.
AWO started around 2005 when it occurred to us, a trio of 20-30somethings who first became fans of Japanese animation in the 1980s/1990s, that most podcasts about anime were one or more of the following: terrible, mostly about videogames/other topics, not focusing on the sorts of Japanese cartoons we were into. The scope of the podcast is a mixture of "old" and "new" titles, though since it is our policy to review titles in their entirety rather than one episode at a time we'll never be on the day-to-day cutting-edge with the rest of the Internet.
Initially publicized solely on ADTRW and goon-hosted, it gained popularity among the blogger/journalist/industry crowd, much of whom were in the same demographic as us. Word of mouth compromised for our astonishing lack of consistency in releasing episodes on time; weekly is a pipe dream and at this point, monthly installments are a "maybe." In the two years that the Parsec Awards had a Best Anime Podcast category, we got nominated the first year and won the second year. Eventually we met some other anime podcasters and bloggers sympathetic to our cause, got professional writing gigs, and recruited those other anime podcasters to come with us in the process. The result is Otaku USA Magazine and more recently Crunchyroll News.
http://www.animeworldorder.com
Index of Titles We've Reviewed or Discussed at Length
A few recent episodes (though I somehow doubt I'll remember to edit this wiki page to keep this current):
* Anime World Order Show # 97 – Anime Boston 2011 and Mike Haggar x Whale = OTP
* Bonus: My Little Pony - Friendship is Magic
* Anime World Order Show # 96 – Redlining a Herocaine Sandwich with Tim Maughan
* Anime World Order Show # 95 – Okay, 3, 2, 1, Let's Jam With Steve Blum
page revision: 5, last edited: 21 Jul 2011 18:40